Hyku Commons User Experience Report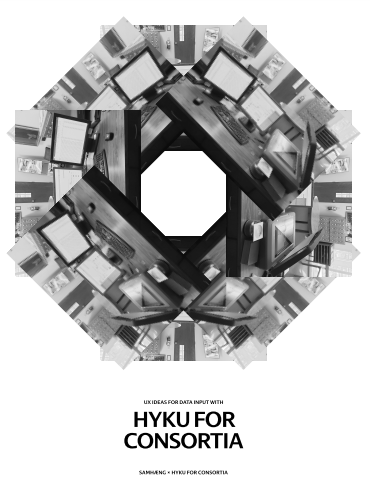 Introduction
Early in 2022, the Hyku for Consortia team started working with Samhaeng, a UX (user experience) firm out of Denmark. As part of the Reducing Barriers to Hyku Adoption 2021-2023 IMLS grant, we commenced the first official phase of user research with this partnership. This phase focused on Hyku administrative functions in PALNI and PALCI's shared multi-tenant installation of Hyku, which we refer to as Hyku Commons. Samhaeng produced a UX report for the purposes of:
Identifying issues with existing Hyku Commons repository interfaces and workflows
Identifying needs for library/end-user metadata customization
Creating specific suggestions for improvement and enhancements
Process
After meeting team members to get a scope of the project and introduction to our setup, the consultant, Filip Jakobsen (CEO and founder of Samhaeng), held four in-depth interviews with Hyku Commons users to see how Hyku is used in their environment, listen to ideas for improvement, and even to co-design some solutions.
Results
The report starts with an acknowledgement that users are generally happy with using the software.
"…even though this report focuses on the many points of constructive criticism given by users, the overarching message from users was that the data input workflows in the software work quite well for them already."
The report provides helpful contextual overviews of the software ecosystem and worker setups. Several points of feedback are presented in the areas of Public UI (user interface), Staff data input UI, Settings and configuration UIs, and Non-UI aspects of the system.
Candidates for further research suggested are:
"Work type" templates workflow
"Work" public page layout
Multi-Value input workflow
Workflow for adding of additional data for items
Batch workflows
It ends with a suggestion to continuously involve users in development decisions:
"I encourage you to continue running a process that gives users a central role in defining, reviewing and approving the features that are prioritized and developed."
Next Steps
The next step for the Hyku for Consortia team is to synthesize the feedback provided in this report into a gap assessment. This gap assessment will also include satisfaction survey data, comments from the user community Basecamp forum and meetings, as well as legacy suggestions from earlier phases of the project. This is currently taking the form of a spreadsheet sorting enhancement requests into the following buckets: Metadata, Workflow, and Front-end User Interface.
Following the completion and sharing of the gap assessment, we will gather additional quantitative (via surveys) and qualitative data (via focus groups) about needs and priorities in each of these areas from the Hyku Commons User Group, as well as ascertaining which gaps are true barriers to adoption. Our team will then create user-informed decisions about upcoming development sprints based on this research, and we encourage others working in this space to advance the defined priorities as well.